New Face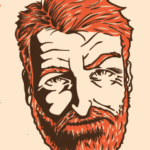 Last week, my friends, the 2 brothers at Studio Rauw in Antwerp, Christophe & Matthias, sent me the latest version of the Ginger Tipple label. This is the culmination of almost 5 months of work.
The first temporary label we used was designed by my friend Tuli Padwa for the first batches of Ginger Tipple which then went under the name "We Brew" because Jewish nrewer in America was already using "Hebrews".
After coining the name Ginger Tipple I had to design a new label and image. For those of you familiar with the less used fonts of Microsoft, the main title is in Jokerman and the rest in Curlz. It looked funky, but amateur. This was good for the artisanal stage and it was obvious that in order to move to the next level I needed a new label.
Studio Rauw
As a Belgian beer I needed graphic artists who were beer drinkers and loved Ginger Tipple, Christophe & Matthias fitted the bill. We went through lots of ideas but slowly the ginger bearded man evolved. The actual artist who designed the face never met me and any similarities between the face and me are coincidental!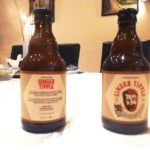 This may take a few more iterations before the final label is ready, but it is definitely a great improvement on the old one.