Welcome to Ginger Tipple
What – Ginger Tipple is a zingy and fresh ginger beer fermented with the finest natural gingers and sugars. Each ginger root is peeled and grated by hand. We hand-bottle and the carbonation from the second fermentation in the bottle is natural. Of course, we regularly taste the Ginger Tipple!
Who – Jeremy Sulzbacher, the CGO – Chief Ginger Officer – was inspired to make the Ginger Tipple to drink on Passover when religious Jews cannot drink regular beers. The result is a gluten free beer style drink. See Jeremy interviewed on Belgian TV show Fans of Flanders.
Where – Ginger Tipple is located in Antwerp, Belgium. We are in the process of ramping up to go commercial, with interests to distribute the Ginger Tipple in Russia, India, USA, Israel and Europe. See the Russian presentation of Ginger Tipple.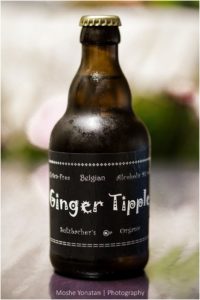 How – 
We started Ginger Tipple in early 2015 to create a non-grain based gluten free beer-type beverage. Over a year later, we have developed the recipe and use organic and exotic sugars to add more flavour and colour. The second fermentation is better controlled and we dry hop with cascades to give a citrusy complement to the ginger. No artificial colours, preservatives, flavours or carbonations are used.
The Experience
Pour – When you open a cold bottle there is a short delay until the effervescence starts to work. When pouring from a height of 15 cm above the glass, a short lasting head is created, sitting on top of a clear and lightly sparkling golden coloured drink.
The initial aroma gives forth a pleasant combination of really fresh ginger and citrus with a richness emanating from the sugars.
Drink – The best way to taste Ginger Tipple in the mouth is to leave it for 2 or 3 seconds in the side of the mouth and then let it flow on to the tongue to feel the tiny bubbles tickle your pallet. Then the flavours of the bitter, but very refreshing, ginger predominate supported by the hops and other ingredients.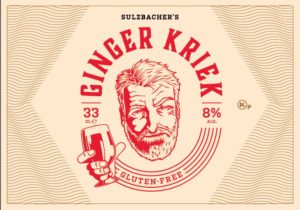 The 8.5% Ginger Tipple leaves a very enjoyable ginger aftertaste in the mouth.
Not Just a Tipple!
Other Drinks – Ginger Tipple is also available:
Tipple Lite – a lighter 4.5% alcohol ginger beer which is also available in 30 litre kegs
Tipple Oak – a heady 11% ginger quadruple, brewed with a higher content of organic ginger and aged with French oak
Ginger Kriek – after brewing a Ginger Tipple, we add Belgian's sour kriek cherries which are fermented in the ginger beer before bottling for a further fermentation.