Gazette of Antwerp 4/8/196 05:00 by Elien Van Wynsberghe
Meet the first Jewish brewers of the country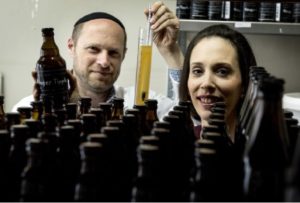 Antwerp-Jewish couple bring grain-free ginger beer to the market.
During their Easter week, it is forbidden for Jews to consume products containing fermented grains. But Jewish beer lover Jeremy Sulzbacher created something new. He recently launched his Ginger Tipple: a grain-free ginger ale.
Developing Ginger Tipple has been an amazing journey. Starting in our cellar with a plastic amateur brew kit, we went through proving yeast overflowing everywhere to 30 liter vats falling over during fermentation. The fist version was cloudy, anemic looking, 12% strong and pretty nasty when compared with today's version.