Meug
Last week I had the privilege of attending a Meug beer tasting event. I say privilege because there are a limited number of tickets and the organizers bring seven off-center beers for us to enjoy, or not!
I use the term 'off center' as a quote from Dogfish Head brewery in Delaware, USA, which specializes in beers which take you out of your comfort zone. They also brew some amazing regular beers, especially their 60, 90 and 120 minute IPAs.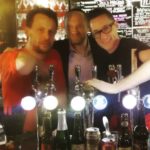 Mombasa
The tasting was held at Cafe Mombasa, run by Rein Adons who opened up a trendy beer bar in the center of Antwerp's Muslim suburb of Borgehout.  It is one of the few places where you can buy Du Pont's Saison on tap.
The Beers
Each beer was presented at the correct temperature but was served blind, we had no idea what was attacking our senses.
But when you drink beers, some of them quite expensive, and you can taste that a commercial fruit syrup was used instead of the fresh fruit or some of the ingredients were overpowering you start to think. On of my sons was with me and he summed it up "you can brew a bad beer and sell it very well for beer tastings only."
Encouragement
The truth is that Frederik & Jeroen wanted to show us beers which we would most probably never buy, but there were two there which I would like to drink again, while two others were so sweet that I did not finish the glass.
It also shows that there is a lot of potential for Ginger Tipple!