New Beer Magazine
BelgiBeer recently launched its new beer magazine, Golden Hops. Available in English, French and Dutch, it takes a closer look at some of Belgium's top breweries and other stories about beer, hops etc.
BelgiBeer also  has a blog which has some interesting articles, especially those written by this blogger 🙂 My review of Duvel's recently launched bourbon barrel aged beer can be read here.
Ginger Tipple
Of course, they had to write an article about Belgium's newest take on the definition of beer, Ginger Tipple. While I am not crazy about the picture they took of me outside the micro-brewery, it was a good article. It can be read here.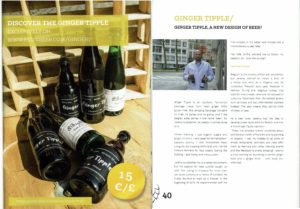 Westvleteren
One of the other perks of writing for a beer magazine is that I get to drink some absolutely wonderful beers, so when the editor asked me to write an article about the world's best beer, Westvleteren, I impressed upon him that it would take at least 2 bottles of each type, 6, 8 and 12, in order to compose anything worthy of publishing.
Look out for the next issue.