The German Approach
When the Flanders Investment and Trade Agency advertised the Flemish beer tasting event in Stuttgart a few months ago, I jumped at the opportunity. Breaking into a new market takes time, and every country is different, especially Germany. The timing was difficult, to travel 550km each way a week after returning from Kosherfest in America was tough but manageable.
Flanders Investment and Trade
This agency is efficient and we had to submit our list of invitees and descriptions of our products in German about two months before the event. The agenda included a dinner the night before the event with the Belgium ambassador to Germany. Fortunately, they were able to arrange a kosher meal for me from the local Jewish restaurant.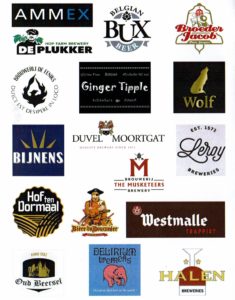 The tasting was held in the Stuttgart Cultural center, and I was proud to be among the 16 brewers there, especially since Ginger Tipple was placed above Duvel  and Westmalle in the program!
The time before the event opened was a wonderful opportunity to meet with some the top brewers and salesmen in the Belgian brewing world.
When they came to taste this newcomer to such an event, I really appreciated their feedback.
The Ambassador
The ambassador really surprised me, first of all he liked both the regular Ginger Tipple and the Ginger Kriek which immediately makes him a good man. He looked at the label and said, "OKp, it's pareve?" When I told him it was for Passover the replied that he will buy some bottles to take to his friends in Cleveland with whom he will be celebrating the Seder.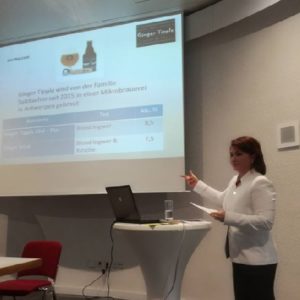 The Presentation & Tasting
The Agency invited a German beer specialist, Irina Zimmerman, to present all of the breweries. At least she could pronounce my family name properly.
I did not make any secret of being Jewish etc.  and Mrs Zimmerman was very interested in the kosher aspect. However, there were some guests who did not come to the Ginger Tipple stand, even though the trade attaché and Mrs Zimmerman strongly recommended that they do.
Perhaps they don't like ginger 🙂
As I had to drive back that evening, I was unable to really enjoy the beers on presentation, although I was given a few complimentary bottles.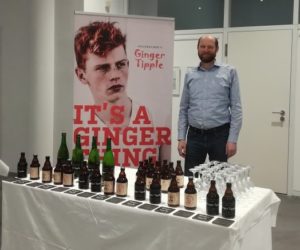 In Conclusion
Unfortunately, only about one third of the people came and there were not many importers and distributors who are the gateway to the German market. However, most of the guests enjoyed tasting Ginger Tipple and Ginger Kriek, and the restaurants, bars and shops were all interested in ordering. One very hip bar wants Ginger Tipple at its annual craft beer festival in March.