Kosherfest
On Monday I arrived at the Meadowlands Exposition Center for Kosherfest 2017. This is the largest trade show for kosher food. Two years ago I went to Anuga in Koln, Germany, which was at least 10 times larger, but it is still impressive to see so many kosher manufacturers, Kosher supervisors and other Jewish businesses in one exposition.
There is a growing number of kosher producers of healthier foods.
Booth
My booth was a regular sized  booth in the corner near the exit. The show logistics had delivered all of my boxes to the booth instead of the refrigerator. But at least they were there.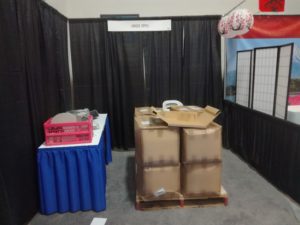 So I had to haul 200kg of Ginger Tipple 200m to the fridge.
My customer, Belgium in a Box sent over the boxes and each bottle had been individually wrapped to prevent breakage, and they had to be unwrapped.
American Stores
After sorting out the bottles, I went shopping for buckets to keep the bottles on ice and a few other necessities. I walked five minutes to Sam's Club, it took longer just to walk around the store, it was massive. And the Walmart next door was just as large. Absolutely amazing.
New Products
Everything costs at these shows, and I had paid for listing Ginger Tipple as a new product. There was also a competition for best new products in different categories, mine was alcoholic beverages. I did not win the prize, it want to an organic winery. But I had to bring my samples to the display case at a certain time. Some of the visitors to the booth came especially because they had seen Ginger Tipple in the new products display case, so it works.
The Show Begins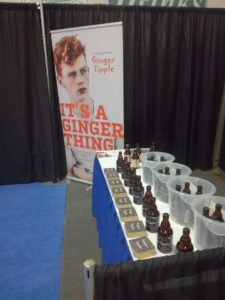 Even before the show officially opened, journalists were running around, and we attracted a lot of attention. It was impossible to predict who would love Ginger Tipple, who would hate it and who would ask for a refill, and then another refill.  And some returned an hour later for even more!
The first day did not stop. The second day was quieter, but still interesting.
Objectives
As the world's only Passover beer, one of my objectives was to secure orders for Passover 2018. Quite a few hotel organisers placed orders or will be once they are more progressed with their plans.
The other objective was to find distributors, and this was a problem. In a few states, New York in particular, liquor stores and distributors cannot sell beer. While there were a few New York based wine importers but they could not help me. Other wine importers like Royal Wine – Kedem, want to work with me but do not have a beer license. Apparently, these restrictions date from after the Prohibition when each state structured its alcohol distribution differently and to fit vested interests.
Conclusions
I will be returning home with some orders and other interesting projects. I know that Ginger Tipple is a good drink, but it was reassuring to hear the responses of people who came to the booth because they had heard that this was a product they had to taste.
The jury was split on which label they preferred, the old or the new.
As Arnold Schwazeneger would say "I'll be back!"