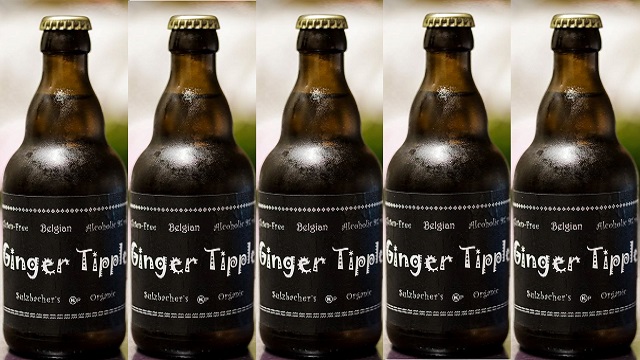 Ginger Tipple is running a crowdfunding campaign on Ulule, Western Europe's largest reward based crowdfunding platform.
Come and help Ginger Tipple move to the next stage and buy one of our reward programs. Become one of the believers in Ginger Tipple and you can be an investor for as little as €10!
Whatever you donate is greatly appreciated.
Starting with Ginger Tipple, we aim to use fresh ginger like never before to bring a new class of alcoholic beverages to the world
In One Paragraph
It is a new alcoholic drink, fresh ginger flavour, gluten-free and dry. It is naturally flavoured, coloured and carbonated; it is unfiltered, unpasteurised and unlike anything else on the market. Ginger Tipple, which is the first in a line of alcoholic ginger beverages, highly regarded by drinkers and gourmets, and we need to expand production capacity.
Product
Ginger Tipple is made with fresh ginger, organic and exotic sugars, yeast, hops, citrus juices, mineral water and organic honey. After the first fermentation, it is bottled with honey and citrus juices and left for the second fermentation. The whole process takes about two months.
Ginger Tipple is one of the few beers in the world which is kosher for Passover. While this is an interesting niche, GInger Tipple is aimed at the general imbibing populace worldwide, and those allergic to gluten in particular.
Production
Ginger Tipple is currently produced in a microbrewery with a maximum capacity of about 700 litres per month. All of the work is done by hand. The future plan is to expand the existing microbrewery while possibly outsourcing production, starting from batches of 1,000 litres moving on to 10,000 litres and upwards.
Product Development
The basic Ginger Tipple recipe is a powerful platform on which to build other beverages. We are currently working on a dark ginger beer based on fruit syrups and a ginger kriek using Belgian sour cherries. Later products will include a sweet Ginger Tipple, a ginger breakfast stout with coffee, an organic version aged with French oak, ready to drink cocktails and softer drinks using Ginger Tipple.
Market & Marketing 
Europe's beer market is valued at over €500bn and the gluten-free market is one of its fastest growing sub-segments. We are using our unique story to attract media interest in the local, expatriate, beer and Jewish media. A joint venture with the peer to peer home-chef site FLAVR.BE created a lot of positive feedback and evolved into a Ginger Tipple cookbook.
Sales & Distribution
It is very early days for Ginger Tipple and there is a lot of interest in this new product. The current gross profit margin on sales to distributors is about 40%. As production increases and larger quantities are bought, especially of the bottles, this should rise to around 70%. The target is to reach 2,000 bottles per month by the Q3 of 2017, with the ambition of rising to over 100,000 per month.
To date, Ginger Tipple is sold in over 50 shops and bars around Belgium and Holland, and online by Belgibeer in Brussels and Belgium in a Box in Antwerp. The main distributor is Van Ecclepoel, a fine food shop and wholesaler in Herentals.
Management
The business' founder, Jeremy Sulzbacher, a UK qualified accountant, does almost everything in Ginger Tipple. His wife, Shifra, helps with the sales and officialdom. Shifra is allergic to alcohol but enjoys using Ginger Tipple in a variety of recipes such as meat stews, oat cookies and deserts.
What are the funds for?
We are currently brewing, bottling, capping and labelling by hand. We are also limited by space to 700 litres per month.
The funds will be used to:
Move into larger premises to increase production and storage space Euro 5,000
Buy equipment for bottling and labelling Euro 4,000
Finish developing the dark ginger tipple – ABigAle Euro 2,000
Form a company and other licenses Euro 2,000
Print a palette of Ginger Tipple boxes 1,000
Buy marketing items such as glasses, t-shirts and bottle openers
About the project owner
I am a UK qualified accountant living in Antwerp for 13 years. I really like beer, it started when my father would take us for long walks in the country, and there was always a pub strategically located along the way for a pint (or two) of bitter. I moved to Belgium after I married a wonderful woman from Antwerp. It took me some time to adjust from English ales to Belgian tripples and bruins, but I got there!
After working for 25 years in a variety of commercial environments I have watched how entrepreneurs convert their passions into commercial success.
Although Ginger Tipple started as a fun hobby to create a beer like beverage for the Jewish Passover festival, a lot of people have great pleasure when they drink it. This sort of reaction has driven my passion to create a range of artisanal alcoholic ginger beverages. Ginger Tipple, a dark ale called ABIGALE, ginger kriek and other products which I am developing will bring an array of sensations on the palate which everyone can enjoy and especially those intolerant of or allergic to gluten.