Gazette of Antwerp 4/8/196 05:00 by Elien Van Wynsberghe
Meet the first Jewish brewers of the country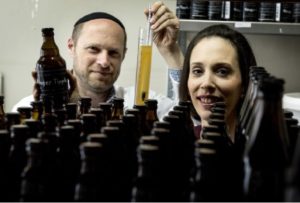 Antwerp-Jewish couple bring grain-free ginger beer to the market.
During their Easter week, it is forbidden for Jews to consume products containing fermented grains. But Jewish beer lover Jeremy Sulzbacher created something new. He recently launched his Ginger Tipple: a grain-free ginger ale.
For almost thirty years, Jeremy Sulzbacher went through life as an accountant. First in London where he was born, then in Antwerp, to which he moved thirteen years ago. His passion for quality beer inspired him to a career switch. On the advice of his wife, Shifra Senderowicz, he took a beer brewing course and he decided to brew his own beer. "Belgium is the beer country par excellence. But I wanted to come up with something new."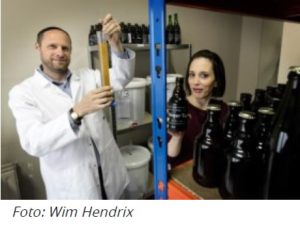 Ginger Beer
Jeremy had an idea for the Passover week. Practicing Jews are not allowed during that period to consume fermented grains. So beer drinking out. "I came up with the idea to produce a ginger ale that is grain-free. I knew about Ginger Beers from when I lived in England, but here the concept is much less common.
"For a while I experimented in my basement and then Ginger Tipple was born. Afterwards I took my beer barrels to a place I rented around the corner. I have now brewed Ginger Tipple for several months in my microbrewery. "
Officially, such products in our country are not classified under the heading 'beer' because beer here must contain grains. "But it tastes similar and the alcohol content is eight percent." Meanwhile, the couple are busy delivering their drinks to several shops in Antwerp, and it is going quite well. "In a dozen shops you can already obtain the Ginger Tipple, including a Beershop on the Melkmarkt. That's my job," says Shifra. Incidentally, she herself has never tasted her husband's Ginger Tipple. "I'm allergic to alcohol, but I experiment with my nose and can distinguish all the ingredients."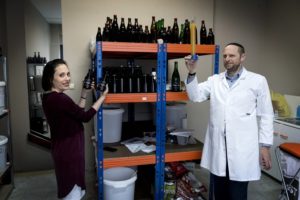 Not exclusive to Jewish market
Although the history of the beer makes it appear to the contrary, the couple does not focus exclusively on the Jewish market. "Jews have no beer culture like the Belgians. I think we are the first Jewish brewers in the country. "
The two focus on the consumer who wants something different. "Our beer is composed almost entirely of organic products. We use the best ginger, hops and natural sugars. It has a very fresh taste and moreover it is gluten-free." With that they respond to current trends.
"Ginger is very popular nowadays and gluten-free products are doing well in the market. We therefore hope that our Ginger Tipple will appeal to non-Jews. "